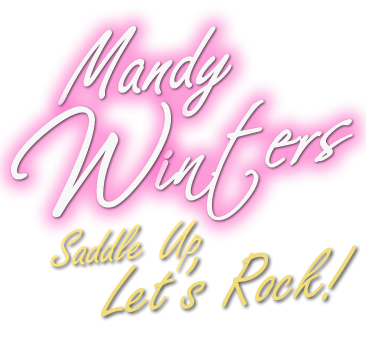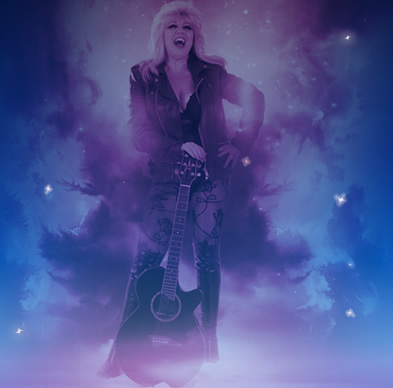 About Mandy Winters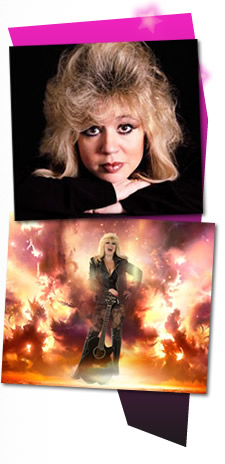 Introduction
Mandy Winters was born into a family steeped in show business tradition. Her father, recording artist Ronnie Winters enjoyed much success in the late '50's and 60's as Columbia Records 'Yodelling Cowboy' – Britain's answer to the great Slim Whitman. In stark contrast Mandy's mother, Nola, was one of this country's leading sopranos.
With such a legacy, it is hardly surprising that Mandy herself turned to the business. At the age of 14 she became the lead vocalist of country band AMERICAN BREW. Mandy enjoyed three incredibly successful years with the Brew which included several British and European tours. At the age of 17 Mandy embarked on a solo career which has gone from strength to strength.
To date Mandy's solo career has been highlighted by 2 sell out tours of CZECHOSLOVAKIA, appearances in the U.S.A, highlighted by appearing at the celebrated NEBRASKA COUNTRY MUSIC FESTIVAL from where she took home the accolade of 'ENTERTAINER OF THE YEAR' and 'FEMALE VOCALIST OF THE YEAR'.
Since going solo Mandy has developed into a truly international artist who is rapidly gaining popularity with not only strict Country followers but also with audiences from all walks of life. In addition, Mandy has the unique talent of yodelling and has undoubtedly become the best female yodeller in Europe.
Professional Career "Highlights" from 1980 to date* 
Tour of HOLLAND which included an appearance at the    DE EFTLING COUNTRY MUSIC FESTIVAL.
Resident band on Olau Line (Sheerness - Vlissengen).
SILK CUT COUNTRY MUSIC FESTIVAL, WEMBLEY
Mandy's recording of Lady in the Mirror, written by the Country Cousins, reached No.4 in the USA's ORIGINAL COUNTRY SONGWRITERS CHART.
Various summer seasons, residencies in Malta at hotels Melliha Bay and The Dolman and numerous cabaret venues.
Supported Mike Reid & The Brothers Lees in tour of London & South-East.
Supported Des 'O Conner, Lonnie Donegan, Jethro, The Drifters, Jim Davidson and Bobby Davro at The Crest Club, Isle of Sheppey.
Resident Compare at The Crest Club, Isle of Sheppey.
Supported Roy Walker at the Lakeside Country Club, Surrey.
Christmas resident cabaret at the Hotel L'Horizon, St. Brelades, Jersey.
Own show at BRANDS HATCH 'THE MOBILE TRUX GRAND PRIX'.
Tours of SCOTLAND
Radio broadcasts on BBC Radio Oxford and Kent.
Tour of CZECHOSLOVAKIA and AUSTRIA, backed by top Czech band, The GREENHORNS.
Top of the Bill cabaret at Butlins Hotels, and Haven Warner camps.
Became female vocalist of the Ron Young Dance Orchestra.
Pantomime at Blackpool - Prince Charming in Cinderella.
Repeat tour of CZECHOSLOVAKIA including venues in AUSTRIA, GERMANY and SWITZERLAND.
'Mandy Winters Christmas Country Special' show at the Leas Cliff Hall, Folkestone.
Guest artiste with the Royal Logistics Staff Band on Christmas Show, Camberley.
TV interviews with Meridian TV and Sky TV.
Sell out tour of NORTHERN IRELAND.
Radio Broadcasts on BBC Radio Belfast.
'Mandy Winters Country Special' at The Crest Club, Isle of Sheppey.
NEBRASKA COUNTRY MUSIC FESTIVAL, USA, wining awards including 'ENTERTAINER OF THE YEAR' and 'FEMALE VOCALIST OF THE YEAR'.
Supported Gerry Grant and his Roy Orbison tribute show on tour in the Midlands and North West.
Appeared as Special Guest Star in the 'Country Roads' Show with Little Ginny Brown and Lorne Gibson - nationwide tour.
UATV Cable TV appearances.
Established Red Rose Productions
Became patron to "The Deal Pathfinders" A charity helping the disadvantaged.
2000 saw the start of the critically acclaimed "Summer At The Sands" summer show in Broadstairs.
Booking and presenting, Vince Hill, Bobby Davro, Jess Conrad, Craig Douglas, Joan Regan, Ray Alan and Lord Charles and many more.
2005 Started the critically acclaimed "The Dolly Parton Story".
Appearance on Channel 4, TV's Big Brother morning show. As Dolly Parton.
Scotland for the Pitlochry Festival.
Warner Motorhome rallies
What our audience think....
"MANDY Winters is adored by her audiences. You can see it and feel it and it is no surprise because every performance she gives is a masterclass in professionalism."